Summer is here and what better than some freshly baked scones, some juicy strawberry jam and a large dollop of clotted cream!
We've caught up with Henry from Clotton Hall Dairy for some top tips…
Clotton Hall Dairy is a 6th Generation farming family based in Clotton, Tarporley in Cheshire. Their mix of Jersey, Danish Red and Holstein Friesians provide the milk used in their Cheshire clotted cream destined for the catering, retail and wholesale markets.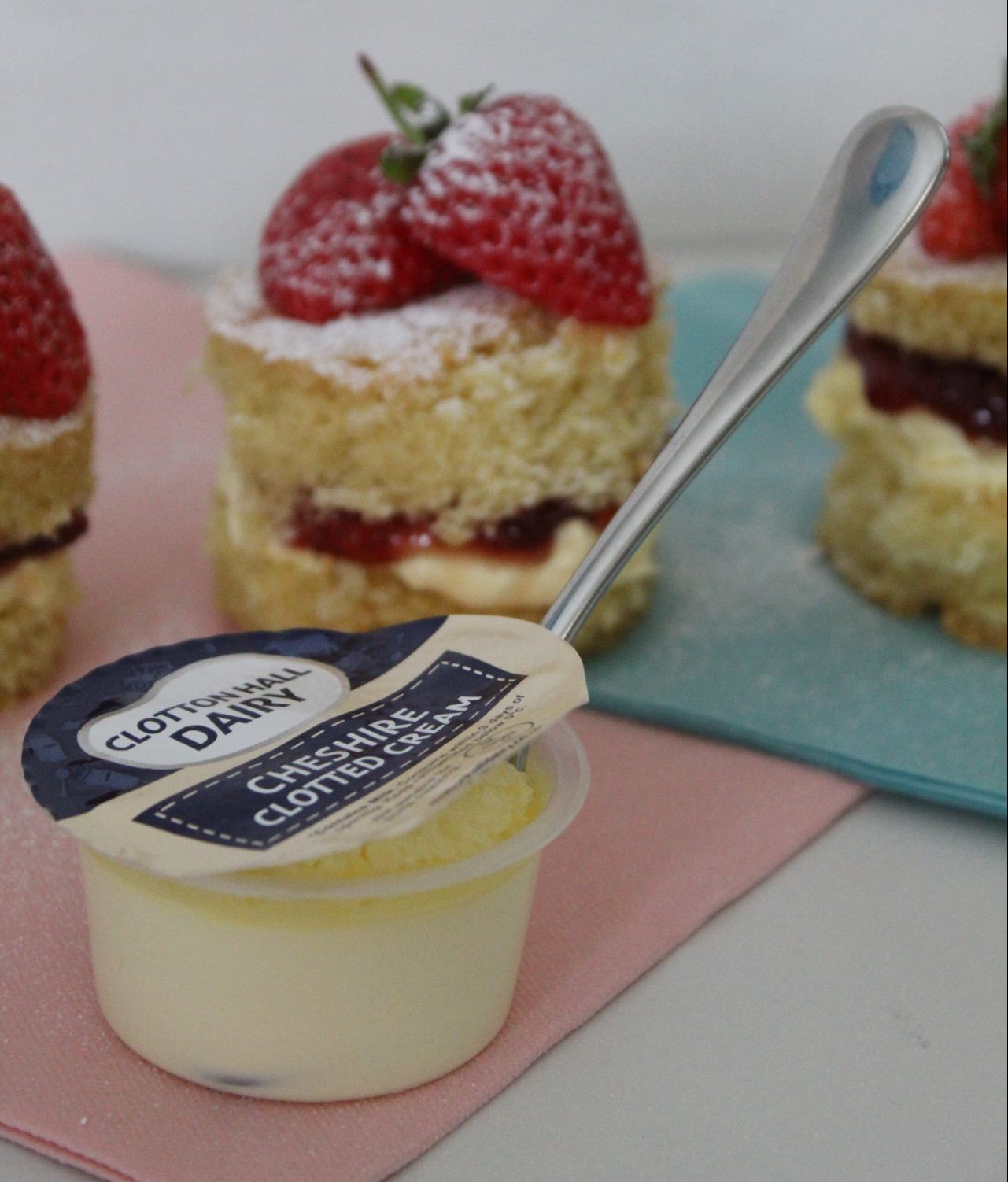 What's your top tip for creating the perfect cream tea?
The perfect cream tea needs a freshly baked warm scone with Mrs Darlington's jam and an extra large dollop of Cheshire clotted cream!
What's the difference between a cream tea and afternoon tea?
A cream tea is perfect for a quick catch up with a friend consisting of just scones, cream, jam and a cup of tea. Whereas an afternoon tea is a more important occasion adding sandwiches and cakes too.
How best to serve clotted cream?
Using two warm spoons, you can make a quinnel with the cream to place the perfect shape on top of a scone.
How else can you enjoy clotted cream?
We love adding our Cheshire clotted cream onto a warm sticky, ginger cake. Having a crispy top and soft base, it allows the cream to stand firm and but adds that extra indulgence.
The great debate…cream first or second?
Jam has to be first so we can see our cream on top!
What else can you do with Clotted Cream? Make ice cream of course!
Ingredients:
2 x 227g Cheshire Clotted Cream
2 Large Eggs
250ml Whole Milk
125g Caster Sugar
Splash of Vodka (too stop it from freezing! Over 18's Only)
Method:
Whisk the eggs in a large bowl until light and frothy; then gradually add the caster sugar and whisk for a further three minutes.
Add the double cream and milk into the egg mixture and whisk well. Spoon the mixture into an ice crea
m maker and freeze according to the manufacturer's instructions. If you don't have an ice cream maker, spoon the mixture into a two litre container and freeze for three hours, then whisk again until smooth. Return to the freezer for another three hours, repeat this process 3-4 times and then freeze until semi-solid.
At this stage, you can add partially crushed fruit such as strawberries or raspberries to add some extra flavour in (it's good enough without!) You may find you need to add a splash of vodka to stop the ice cream from freezing too hard, make sure you only serve this to over 18's however.
You can order your Cheshire clotted cream here
About Clotton Dairy:
Clotton Hall Dairy is perfectly placed amongst the beautiful Cheshire countryside, we pride ourselves on creating luxurious and indulgent dairy products for all to enjoy.
As a farming family, now in its sixth generation at Clotton Hall Farm, we work together with our free range cows to produce the perfect creamy milk which helps to create our luxurious clotted cream.
Our herd of cows graze outside for at least 250 days of the year, in other words they are getting luscious, fresh grass as much as possible, depending on the great British weather!
And with a variety of breeds from Jersey, to Danish Red and Holstein Friesian we are provided with the perfect mix of milk to craft our wonderful clotted cream.
Contact Clotton Hall – sales@clottonhalldairy.co.uk