Whether living, working or visiting the Countryside it means having gear that's up to the job. Our NEW 'Tried & Tested' feature brings you a selection of products tested at home and in the field by our Regional Reporter team many of whom are animal owners or live on the farm and spend most of their time in the Great Outdoors.
One for the equestrians….
Description:
The perfect gift for the equestrian in your life.  A solid brass folding hoof pick featuring a bridle leather strap and brass clip. The clip can easily be attached to the D ring on your saddle, in your tack room or horse box.
Each hoof pick can be personalised with the rider or horses name. Measures approx 8 1/4 inches long.
Reviewed by our Regional Reporter Ellie:
I have been asked to review this gorgeous hoof pick from LG Leatherworks.  I've been using it for a couple of weeks now to really give it a good test before I did my write up.
I found it to be:
Amazing quality
Light weight
Compact to carry whilst riding
Strong and sturdy to last and do the job
Convenient as clips to your jeans
Firstly, it comes beautiful packaged in a drawstring bag with the LG Leatherworks logo. It would make such a lovely gift for any horsey friend.
The second thing I noticed was how beautiful the leather is, it has that gorgeous leather smell you associate with new tack. The metal is a gorgeous gold colour – it just screams quality.
One of the main features is a clip to attach to your jodhpurs for when you're out riding. Its so handy for when you are out hacking and your horse gets a stone stuck in his hoof. Its compact and lightweight so not to be an inconvenience whilst riding but very sturdy so it does the job when needed. The hoof pick part folds up so no parts dig in whilst you're riding. But it comes out easily with no resistance when you need to use it quickly.
The hook on the pick is a great angle and the point is perfect for really getting right to get all the dirt and stones out. The handle is made from leather and is very sturdy allowing for a good grip.
I also found it super useful for me when out checking my ponies. Mine live out most the time and I walk around daily to check on them. I could attach it to my jeans and whilst checking on them if needed I could easily just pick their feet out to make sure there was nothing stuck. Very handy having it there when I needed it.
Final thoughts:
All in all I found this to be a really very well designed product. Super useful for any equestrian whether you ride or just have them as pets, to have keep on you at all times. The quality is outstanding and I would definitely recommend purchasing it.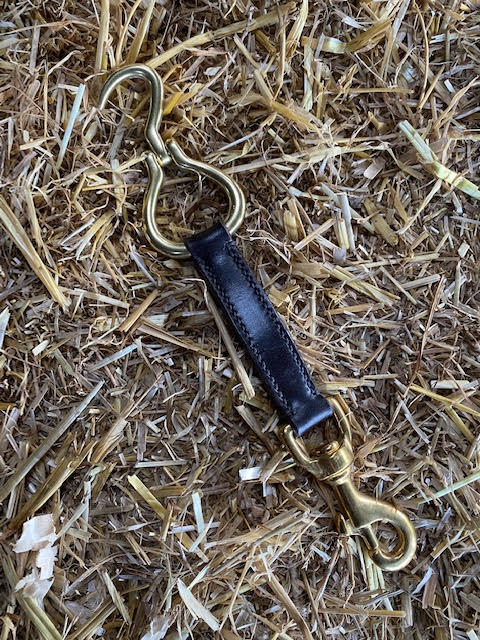 Find the LG Leatherworks Folding Hoof Pick Here
RRP £28
About LG Leatherworks:
Louise attended a weekend  leather work course in 2013 at Tanner Bates in Dartington, Devon and was hooked.
Since then Louise has attended leather-work courses with the legendary Neil MacGregor and Valerie Michael in Tetbury learning to perfect hand stitching and a multitude of traditional skills.
Located on Dartmoor National Park, Louise works from my garden in a Shepherds hut overlooking Dartmoor crating bespoke handcrafted goods (including commissions).
Every item created is hand cut, stitched and finished by Louise – never using a machine.  
Disclaimer
All our reviews are completely free of charge. The unbiased views on the products are provided by our team member testing the product/s for our audience.