Our guide to the best Countryside-inspired gifts this festive season for Nature Lovers, Pets, Little Ones, Ladies Who Shoot, The Equestrian, Gin & Coffee Lovers, The Home and Outdoor Explorers
The Almanac: A Seasonal Guide to 2021 by Lia Leendertz
The Almanac is about celebrating the unfolding year in all its various facets.  Moon phases, sun rises and sets, tide time tables and the sky at night.  As ever there are seasonal recipes and monthly gardening tips for the flower and vegetable garden too, as well as a bit of folklore, and nature and a song for each month.
The Almanac is the the perfect gift for nature lovers to celebrate the upcoming year. Written by the Award Winning gardener and food writer Lia Leendertz.
£10.99 | Shop Here
Sterling Silver Oak Leaf and Acorn Charm Necklace – Element Isle
This beautiful Oak leaf and acorn charm necklace has been created and cast in sterling silver from an actual Oak leaf and tiny acorn collected from an ancient Oak Tree near the Element Isle studios in the South of the Isle of Man.
The method of lost wax casting preserves the incredible detail of both the leaf and the acorn, creating a beautiful replica of the original, immortalising them in solid sterling silver to be enjoyed for years to come.  Sure to become a favourite, 'go to' addition to your jewellery collection, or make a treasured gift for someone special.
Claire and Scott of Element Isle design and craft each piece of jewellery on the Isle of Man
£69 | Shop Here
Matching rolled dog collar and laced lead – LG Leather
Show your furry four-legged friend how much you love them this Christmas by giving them the pawfect gift to set tails wagging.
The rolled red leather dog collar and matching red laced lead is designed to withstand the ruff and tumble of everyday life and will have your precious pooch looking like the belle of the ball when you take them on their daily adventures.
£55 per item | Shop Here
Angus Children's Gilet – Little Grouse
"Pop over a shirt for the classic country look, or snuggle me in as a mid-layer beneath a coat during chillier spells!"
This children's fleece gilet is fully lined for warmth and comfort, and smartly finished with a hard-wearing faux suede trim.  You and your little ones can now match in style!  Unisex, machine washable design available in sizes and colours.  Made in Great Britain.
£36 | Shop Here
Hand stitched leather crossbody country bag – LG Leather
Bag yourself a stunning slice of English heritage this Christmas, with this Oak bark tanned leather country bag – sourced from the last remaining oak bark tannery in the UK.
Lined in a luxury calfskin and fastened with a solid brass stud, this suburb shoulder bag would make a great gift for the country girl who oozes style and sass
Located on Dartmoor National Park; Louise cuts, stitches and finishes each piece herself and never uses a machine.
£295 | Shop Here
Discovery Set – Barker & Sloane
Each Discovery set contains travel/miniature sizes of the Barker & Sloane Kit for Skin.  Enough for a min of 3 weeks use so perfect for travel, gifting or simply trialing the products.
The Discovery Kit comes with it's own gusseted tweed bag, with a contrasting zip and lining which can be used long after the products have been used.  Choice of 4 tweed bag designs.
Barker & Sloane develop and manufacture plant-based skincare formulas using their own Advanced Phytotritional Technology and blend using British oils from British Farmers.  Gentle and nutritious formulas for even the most sensitive of skin types.
£35 | Shop Here
Forton Belt – Touch of Tweed
Made from a combination of the highest quality British, oak tanned leather and tweed, the unisex Forton belt is bound to turn heads.  A truly unique and timeless piece, each belt is handmade and includes a solid brass buckle.  Its herringbone tweed, rear inlay panel, and front circle inlay also adds an extra touch of elegance.
For a gift that is truly bespoke, you can even request your favourite colour tweed to be included (small supplement required).  Dressed up or down, this beautiful belt will serve as a true wardrobe staple well beyond the festive season.
£130 | Shop Here
Performance Skin – Apt Cavalier
Primarily designed to aid performance on the cross country course.  The innovative, sports mesh panel which spans across approximately 75% of the back dramatically reduces sweat under your body protector; you can literally feel the air flowing through the mesh as you gallop.
Not going cross country?  This top is an everyday essential for riders of all levels, all year round.  Built-in temperature regulation means that it doubles up as the perfect base layer, ensuring muscles stay warm and helping to prevent muscle strain at the beginning of a session.  Still, as you heat up, it transfers sweat away from the skin and allows you to stay cool, calm and comfortable at all times.
£47.50 | Shop Here
Touch of Tweed Sweatshirt
Halden – Super-soft, stylish and sustainable sweatshirt is handmade from 100% organic cotton, with a brushed fleece lining to keep you festively toasty as soon as the cold spell kicks in.
Trimmed with contrasting British tweed, and hand- finished unique branded buttons and real leather logo, this versatile sweatshirt oozes British heritage – making it the perfect gift for that obligatory Boxing Day walk.
Southborne – Perfect luxury gift for your favourite country gent who prides himself on being subtle, sustainable and undeniably stylish.  It's the ideal layer for Sunday strolls and popping out for a festive pint at the local.
Halden £125 | Southborne £135 | Shop Here
Go Your Own Way Personalised Wooden Heart Decoration
Got a favourite destination or location?
Go Your Own Way can print it for you on either a keyring, coaster or wooden hanging heart.
Choice of size available with FREE personalisation.
Rachel Gaw, the founder of Go Your Own Way, hand- makes and designs each piece in the Lake District.
From bold artwork to romantic map prints, personalised luggage tags, wash bags and accessories for men and women inspired by mountaineering, cycling, walking, wild camping and the sea, there's something for everyone.
Wooden Map Heart  £8 | Shop Here
Land Girls Coffee Gift Set
Gift packs are available with 2 bags of specialist coffee farmed by women and a beautiful hand stamped locally baked biscuit made by a local farmers wife in her small Rutland bakery.
Land Girls celebrates inspirational women in farming who continue to go against the grain by supporting themselves and their communities around the world.  Sourcing the best Fairtrade produce from carefully selected small farms across the globe; fair not only in price but fair for the women growers whose hard work shines through in their outstanding produce.
£25.50 | Shop Here
Urban and Wild Game Bird Gin
Game Bird Gin is a botanical gin infused with citrus and rosemary, produced in the UK, in small batches of just 100 bottles to ensure the quality of blend is to the Game Bird standard.  Having undergone rigorous taste testing to guarantee excellence with each sip, the Game Bird team recommends serving over a few ice cubes, mixed with a premium tonic water and for the garnish, a small sprig of rosemary and a twist of orange peel.
Presented in a signature cartridge case, Game Bird Gin is the ideal gift for those loved ones who have everything, or even just as a gift to yourself.
£35 | Shop Here
Christmas Soy Candle – Lochs and Fens
This Winter Berries candle is the scent of Christmas, in a jar. 100% soy, as you'd expect from Lochs and Fens, and designed to complement the Winter Berries Soap. The ideal treat to set the mood, fill a stocking or say 'thank you.'
Lochs and Fens are a mother and daughter team, Polly and Isobel, producing high-quality homeware & stationery inspired by the wilds of Argyll & Lincolnshire.
£6.80 | Shop Here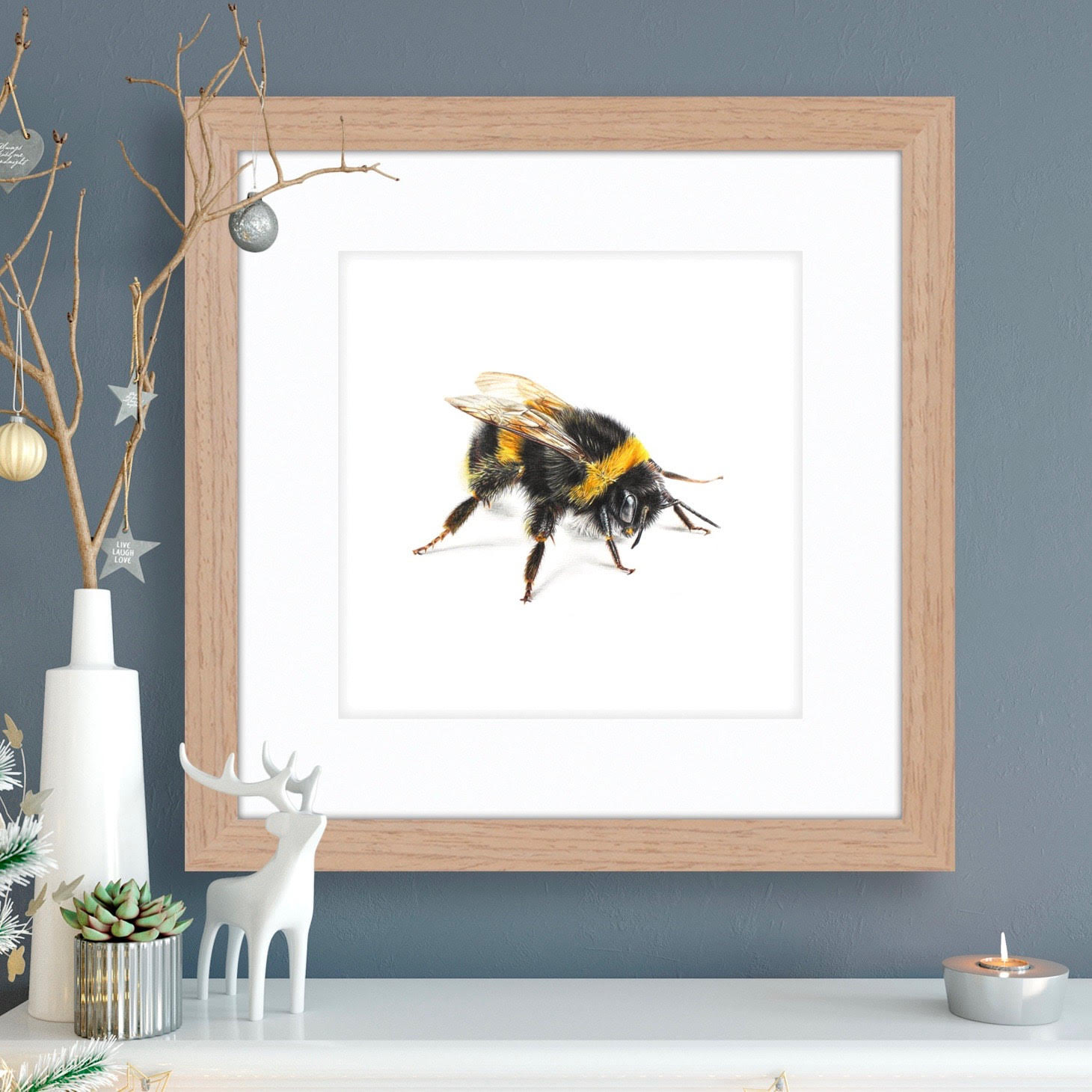 "Queen Bee" Print – Stacey Moore
Hand signed Open Edition Print by artist Stacey Moore.
Bee coloured pencil drawing titled "Queen Bee".  All of Stacey's drawings are printed on archival high quality 310gsm fine art paper using pigment archival ink that will last at least 75 years.  The surface allows you be able to see each and every pencil mark that you would expect from the original drawing.
Print Size: 8inch x 8inch.  Also available framed £60.
£35| Shop Here