Mike, Huddart Heavy Horses, has very kindly donated a prize for our September Members Competition. Our Members could win a heavy horse experience day with live demonstrations, a carriage ride to the local pub, and return journey cocktails with sharing platters! An incredible experience I think we can all agree! (Ps. If you're not a member sign up here before the end of September for a chance to win!).
We wanted to get behind the brand and find out more about Huddart Heavy Horses…
Can you introduce yourself Mike and your business Huddart Heavy Horses 
I'm Mike Huddart owner and coachman at Huddart Heavy Horses…we are a family owned and run business based in South Cheshire, with Shropshire and Staffordshire a stones throw in either direction. We started with Shire horses many years ago, when my parents went to the local auction looking for a push bike for me and instead came home with a black mare called pearl and as you say, the rest is history.
It was a gloried hobby for years and I dipped in and out due to moving around the country and Europe messing around with polo ponies and cocktail bars. I then moved back to Cheshire for good to help out with the horses and land and well and truly fell in love with breed more so than I ever had. This cumulated in us winning at the National Shire Horse Show 2 years in a row (before COVID hit!!) and every other show we entered.
I thought it was about time I made something of it and offer our services to the heavy horse world and promote all the fantastic heavy breeds to a wider audience.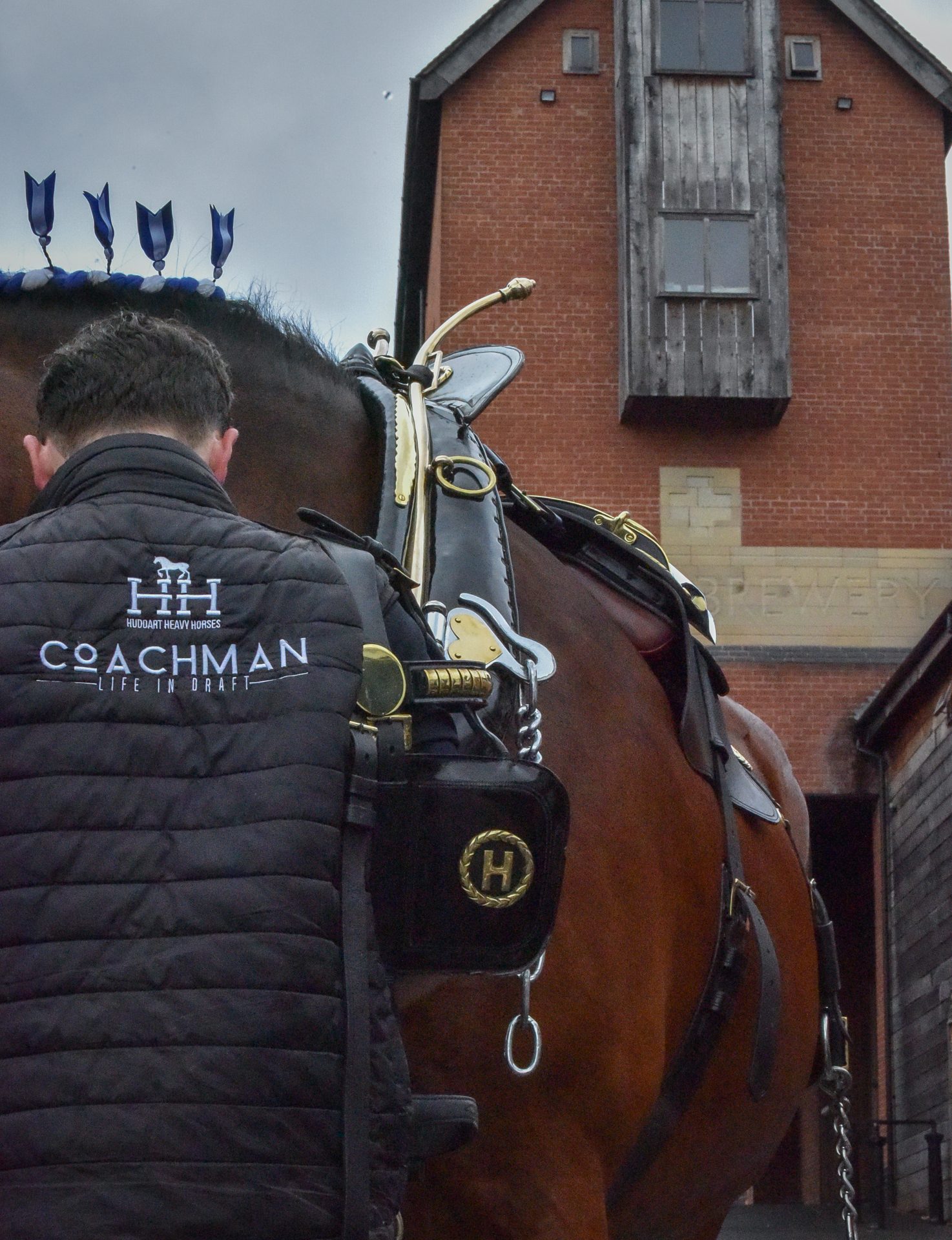 How many horses do you have and do they each have a different role in the business?
We are down to three at the moment, but currently looking for a driving pair/pair of youngsters to bring on.
Firstly we have the main man Kaiser, he's the driver and all round dude. Secondly we have Georgie, she's a three year old homebred of ours who is cute and an absolute pain in equal measures! She is in the process of being broken and may have a foal in the next couple of years, who knows! She is also used in lessons for plaiting and generally used as a clothes horse (pardon the pun).
Lastly we have Troy, a 6 year old we bought to go as a pair with Kaiser. Unfortunately little to our knowledge he was obviously seriously abused and is now what can only be described as a nervous wreck! He is the sweetest horse you can ever meet and will happily come and say hello over the gate, but petrified of everything. Hopefully in the future he will play a part in our coaching sessions.
What services do you offer at Huddart Heavy Horses?
We aim to be a one stop shop for Heavy Horse owners of all experience levels and there are multiple facets of the business. We offer coaching for owner and horse alike, both at our base here in Cheshire and as a concierge service going to the client, including going to shows, doing show prep and even showing a client's horse for them.
Training and sales livery is something we have just started and We also source all manner of equipment and horse drawn vehicles, including stocking Carr, Day and Martin products. Camps and training events are on the cards in the near future too!
We also do weddings and special occasions as well as offer professional marketing solutions for brands including content creation and event marketing (public engagement).
Unlike the societies who are incredibly inward facing and don't do an awful lot when it comes to promoting the breed (or shall we say in a particularly good light), we really want to push the breeds to a wider audience through our experience days, which have a far more modern twist, including cocktails and grazing boards.
You also support other small businesses in the services you offer, can you tell us more? 
I really wanted to fuse my backgrounds of horses and high end hospitality with this business, to provide a modern, upmarket and rememberable experience. After a lot of brainstorming I came up with a super unique food and drink concept called TRACE.
This is to pioneer local producers, suppliers and artisans within Cheshire, Staffordshire and Shropshire…all within a 30 mile radius of our HHH HQ, the distance a horse and vehicle can travel in a day!
In the last couple of years with the global crisis it has given us time to think about food and who produces it; it should also be a time to rethink how you can truly help. In a world where sustainability and environmentalism is paramount, the education should be the same, that fads with obscure celebrity endorsement such as veganism is not the way to protect the future, but instead supporting British agriculture, game and business, encouraging people to seek local British alternatives among local suppliers.
We really want to become curators of the best the counties have to offer and incorporate it into everything that we do!
We love your emphasis on educating others about the heavy horse world. What myth/preconception would you like to bust when people think about heavy horses?
So yeh it is all about a nod to the past, however modernising the heavy horse world and raising the profile, bringing it in line with the rest of the equestrian disciplines. If you ask any horsey person about shires and other heavy horse breeds they simply just don't know anything and to  be brutally honest the heavy horse world is seen as bit of a joke to the rest of the equestrian scene. But when the public sees what is representing the breeds at the county shows and the archaic practices etc it's no wonder.
I guess what I am trying to do it show people there is a 4* world behind the happy hackers and showcasing these amazing breeds with modern technology and modern practices. They are more than just dishevelled balls of hair and mud! There is a hell of a lot of work to be done and quite frankly pull it kicking and screaming into the modern world! 
What's next for Huddart Heavy Horses? Do you have any other plans on the horizon? 
Yes we have quite a few! There is the Coachman clothing brand launching soon, which aims to be the first luxury equestrian brand to cater solely to heavy horse enthusiasts!
One of the main things though, is to develop TRACE and the outdoor venue over the coming months, with small exclusive events featuring guest chefs cooking over open fire, taster menus, private dining and cocktail masterclasses. The aim is to have some amazing hampers with the finest of our local selections in time for the dreaded C word!
While we are on that subject follow HHH on the socials to keep up to date , as we will be dropping some fantastic offerings for the festive season, including family days out, winter carriage rides and mulled wine!
Visit the Huddart Heavy Horses Website Here